Prices
Trail riding is available from April to October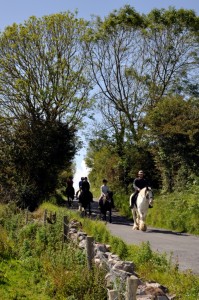 Riders are on horseback for 3-4 hours per day.
These trails are suitable for experienced riders only.
Advanced booking is compulsory.
Price: 130 euro daily rate
Beach riding

Rides are 1-2 hours
Suitable for all level of riders
Advanced booking is adviced
Price – see hourly rates
Hen Parties/ Birthday Parties and Special Occasions
                           1 Hour                                 2 Hours
Adults                     €30                                        €50
Children                  €25                                        €40
Large groups and family rides available. Discounts are also available here.
All riders please arrive at stables 10 minutes before start of your ride to allow time to book in, fit hat and mount your horse safely. Safety and enjoyment are priorities at Carrowholly Stables.
Booking – Advanced booking is reccomended. Please call +353(0)9827057 or +353(0)876366278 or +353(0)879393634. You may also complete the online booking enquiry form. Please note that a deposit (via pay pal) will be required when booking.